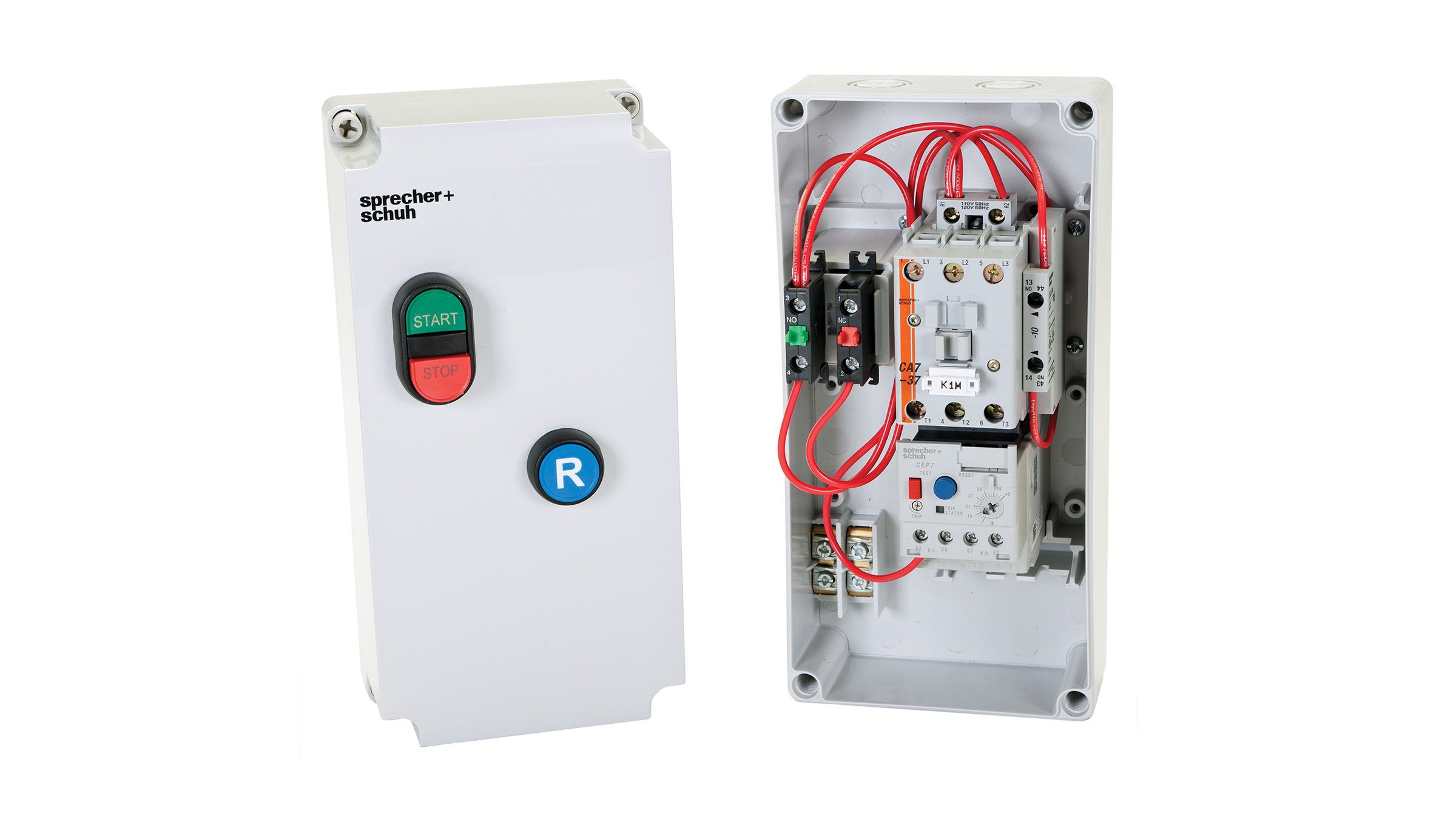 Pre-assembled or "build-from-stock" starters housed in a high impact, non-metallic, cUL approved, Type 1, 12, 4/4X enclosure
Popular Resources / Quicklinks

Sprecher + Schuh offers a broad selection of pre-assembled or "build-from-stock" starters housed in a high impact, non-metallic, cUL approved, Type 1, 12, 4/4X enclosure. Built for convenience, space savings and economy, the KWIKstarter line is efficiently designed to use stock CA7/CAU7 contactors and advanced CEP7 solid state or CT7N thermal overloads. Contactor and overload are either prewired and pre-mounted onto the enclosure's built-in DIN-rail or may be ordered as separate components. Ample knockouts and open terminals guarantee quick, no fuss wiring.
KWIKstarters control motors up to 30HP @ 460V (30HP @ 575V) in two enclosure sizes measuring only 208 x 98mm (8.19" x 3.86") or 250 x 125mm (9.84" x 4.92"). This covers over 85% of industrial motor control applications in a very compact package that can be mounted adjacent to or directly on equipment.
KWIKstarters are available in UL sizes 9 to 43 amps, or NEMA labeled sizes 00, 0, 1 and 2. The enclosure and controls are designed for simplicity. A variety of control options and sizes make it a versatile off-the-shelf motor starter for a variety of common applications.
Starters & Enclosed Products
cUL Approved
Type 1/12/4/4X
IP66
Up to 15 HP @ 600V AC
AC and DC
Single or 3-Phase
Start-Stop, Multi-Function, H-O-A, Reversing, E-Stop
IEC or NEMA labeled
125 x 125 x 250 mm (5 x 5 x 10 in) max.
Looking for more?
Find selection guidance, technical information, wiring diagrams, and dimension drawings in the E-Catalog.
| Resource | Resource Type | Publication Number |
| --- | --- | --- |
| KWIKstarters Overview | Flyer | F-KWIKstarter |
| Series CNX KWIKstarters for Special Uses | Flyer | F-CNX |
| Sprecher + Schuh Panel Shop Services | Flyer | F-PanelShop |