FMS & NEMA Labeled Starters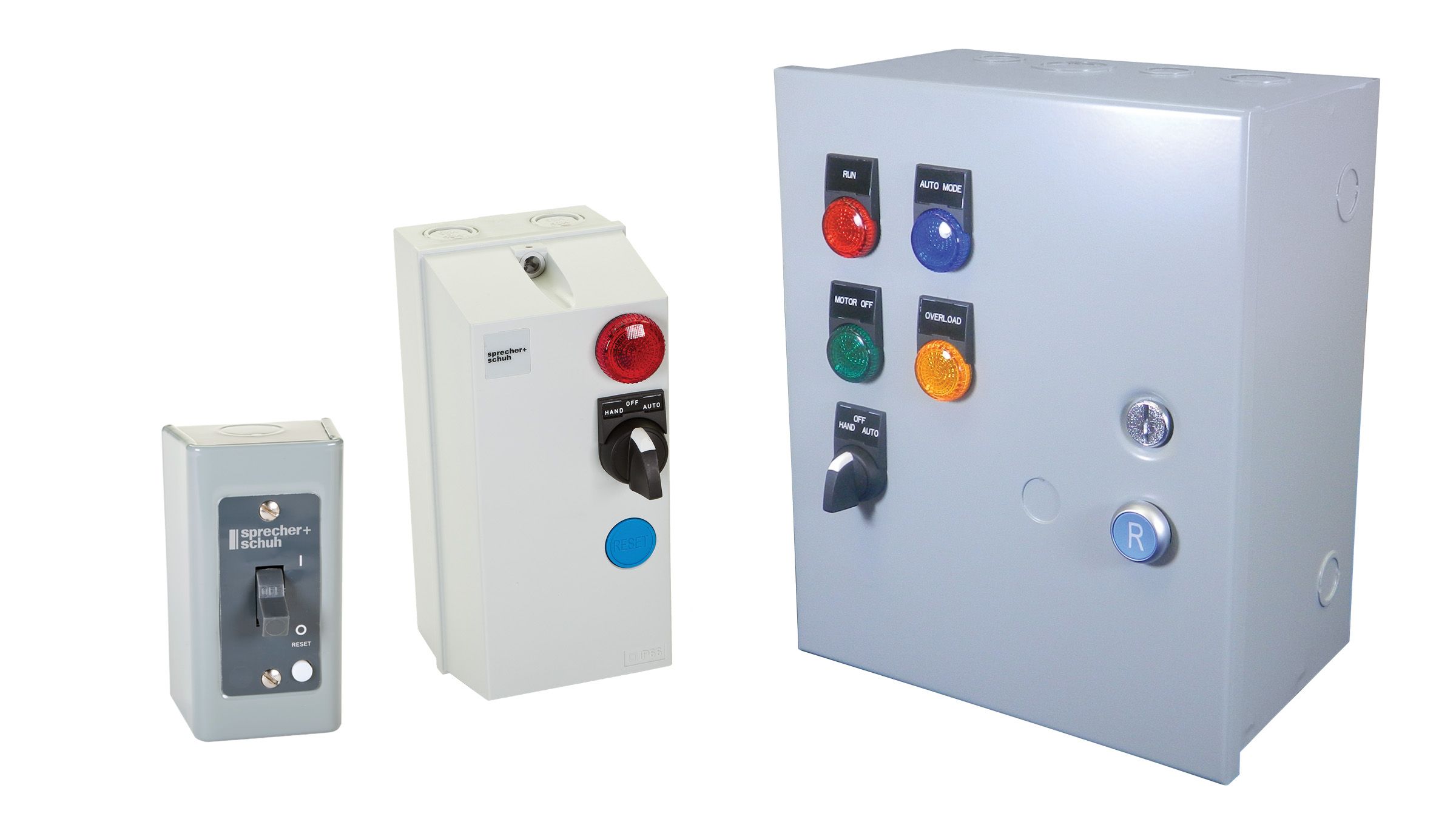 Fractional Manual, Non-Combination & Combination starters labeled for NEMA applications
Popular Resources / Quicklinks

Sprecher + Schuh offers a complete line of combination and non-combination starters suitable for almost any HVAC/R application in the industry. Standard HVAC/R starters range from NEMA Size 00 up to NEMA size 3 (50HP @460V AC).
Sprecher + Schuh Fractional Manual Starters (FMS) consist of a snap switch combined with a thermal overload device operating on the solder-ratchet principle. To reset the overload mechanism, the switch lever is moved to the OFF position. The motor can be restarted by simply pushing the switch lever to the ON position. The switch is designed to prevent being held closed under a sustained motor overload.
Sprecher + Schuh NEMA labeled KWIKstarters are housed in a high impact, nonmetallic, cUL Approved, Type 1, 12, 4,
4X enclosure. Built for convenience, space savings and economy, KWIKstarters are efficiently designed to use stock CAN7 contactors and CEP7 or CT7N overloads. Contactor and overload are either pre-wired and pre-mounted onto the enclosure's built-in DIN-rail or may be ordered as separate components. Ample knockouts and open terminals guarantee quick, no fuss wiring.
Standard starters include Non-combination, Fusible, Non-Fusible and Molded Case Circuit Breaker disconnects. All sizes are available in metallic Type 1 General Purpose or Type 3R Outdoor Rain tight enclosures. Three-phase and Single-Phase styles are available. An additional factory assembled option is the fireman damper interface, especially designed for meeting the needs of building and contractor specifications for shut down control.
Starters & Enclosed Products
Features and Spec bullets
Looking for more?
Find selection guidance, technical information, wiring diagrams, and dimension drawings in the E-Catalog.
| Resource | Resource Type | Publication Number |
| --- | --- | --- |
| How-To Choose FMS Heater Elements | White Paper | Tech-FMS-HeaterSelection |
| FMS Fractional Manual Starters Overview | Flyer | F-FMSSTARTER |
| HVAC/R Program for Authorized Distributors | Flyer | F-HVAC |
| NEMA HVAC Starters Fireman Damper Interface | Flyer | F-HVAC-FDSTARTER |