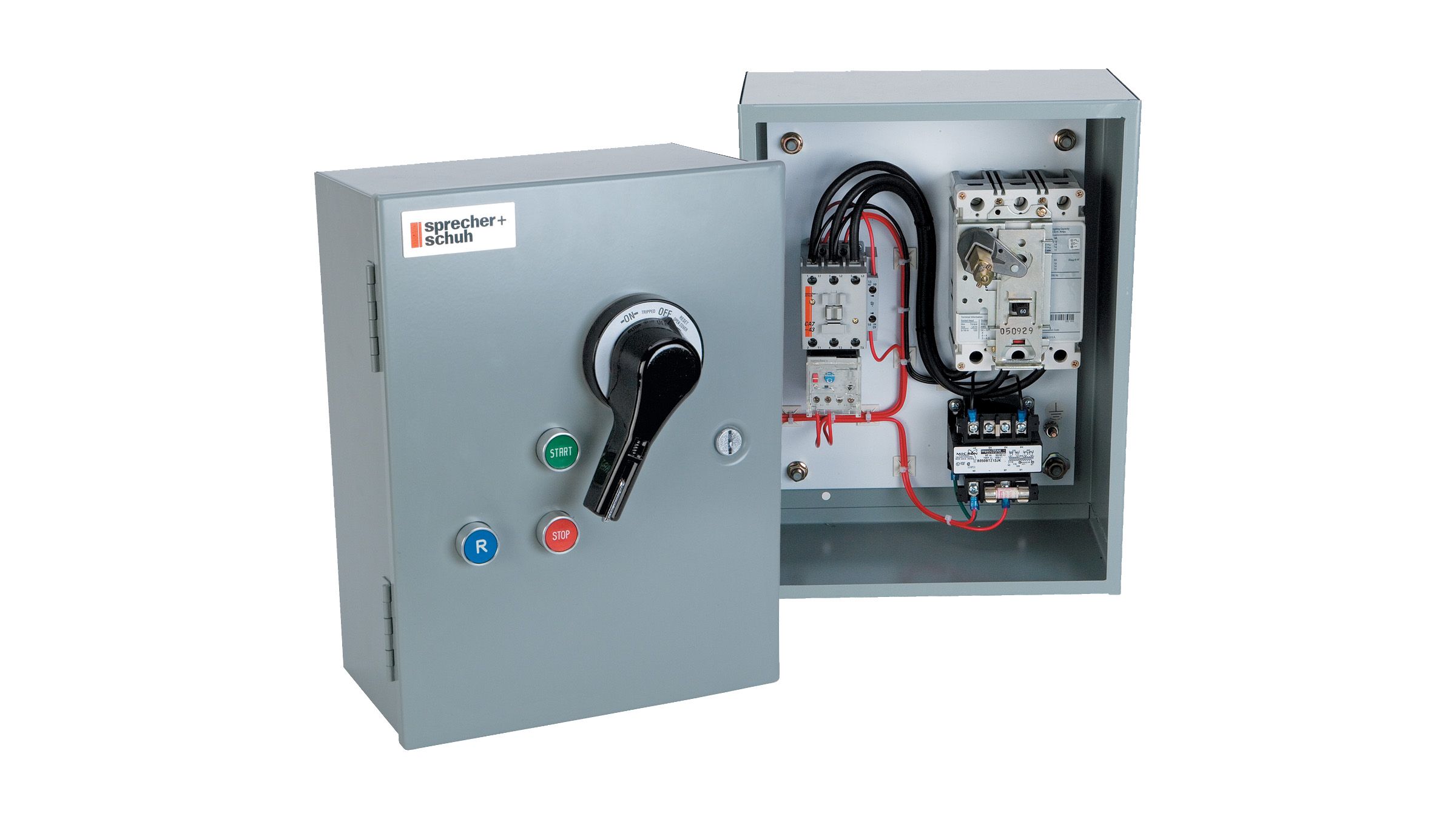 Open or enclosed, combination starters include a means of disconnect in fusible, non-fusible, or molded case circuit breakers, up to 500 HP @ 460V
Popular Resources / Quicklinks

Sprecher + Schuh's through-the-door operated combination starters represent an economical alternative to the classic flange-operated solution. They are designed to meet rigid UL/NEC withstand specifications. Sprecher + Schuh has been building custom control panels with this design for years. Experience the durability of this product!
At the heart of all Sprecher + Schuh combination starters is the CAT7 and CAT9 line of motor starters. These starters are compact and offer intermediate sizes to better match specific motor requirements. This equates to generous wiring space and less wasted horsepower capacity.
Standard Sprecher + Schuh combination starters are equipped with the state of the art CEP7 solid state overload relay. CEP7 solid state overload relays measure motor current directly through integrated current transformers and on-board electronics (ASICs). The electronics provide numerous advantages over electromechanical relays such as increased accuracy, a wider adjustment range, lower energy usage, and less heat generation which requires less cooling.
Starters & Enclosed Products
Lockout/Tagout accessories
Quick make/quick break, non-teasing action
Suitable for interrupting up to 200,000 amperes when class "J" fuses are used
UL98 standards for service entrance requirements
NFPA 79
cUL, CE, CSA
Type 1/12/4/4X or 3R
Up to 500 HP @ 600V AC
AC and DC
Forward and Reversing
IEC or NEMA labeled
Many cover control types available
Looking for more?
Find selection guidance, technical information, wiring diagrams, and dimension drawings in the E-Catalog.