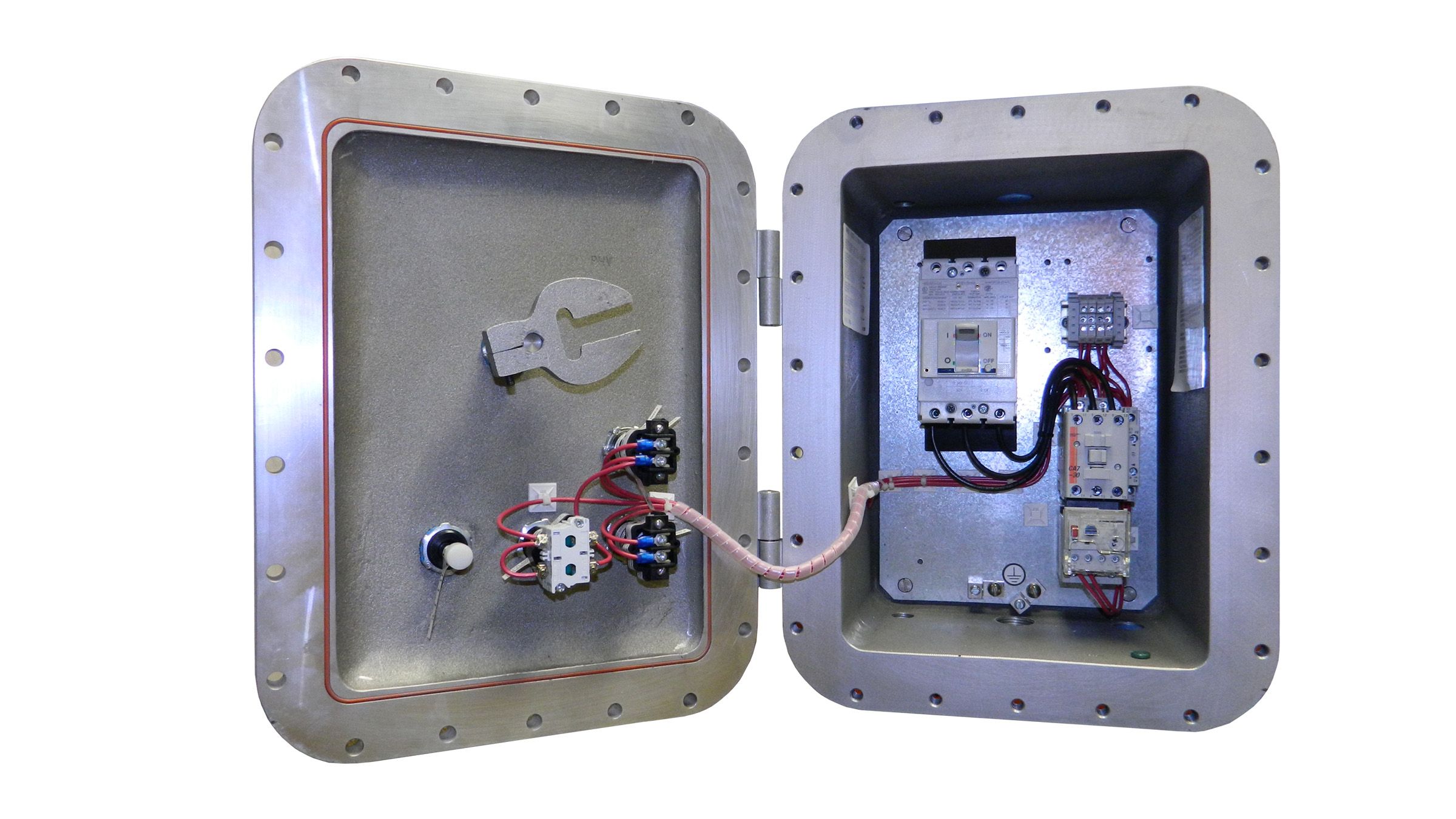 Non-combination and combination starters enclosed in Type 7/9 enclosures for safe and reliable starting in hazardous applications
Popular Resources / Quicklinks

Sprecher + Schuh's offers explosion proof starters for environments covered by NEMA, UL, NEC & CSA classifications.
Type 7 enclosures are designed to provide protection against an internal explosion when operated in a hazardous gas environment. Type 9 enclosures protect from internal explosion in a hazardous dust environment. Both types must also prevent enclosed heat generating mechanisms from causing external surfaces to reach temperatures capable of igniting explosive gas-air mixtures in the surrounding atmosphere. Sprecher + Schuh explosion proof starters meet all requirements of both classifications. Explosion proof enclosures are also equipped with a watertight Nitrile gasket for compliance with Type 4 specifications.
Factory Installed Features
A wide range of specially designed explosion proof cover control devices and switches are available. Explosion proof starters from Sprecher + Schuh are factory assembled in our custom panel shop, and can be specified from the catalog with a range of standard options and other modifications, including breather drains, ATEX certifications and any other special requirements you may need. See the E-Catalog for the most current offering.
Starters & Enclosed Products
NEMA:Type 4/4X, 7BCD, 9EFG
NEC: Class I, Div. 1 Groups B, C, D
Class II, Div. 1 Groups E, F, G
Class III
UL: Standard 1203 Hazardous (Classified) Locations
CSA: Standard 22.2 No. 25 & 30
Up to 500 HP @ 460V
Looking for more?
Find selection guidance, technical information, wiring diagrams, and dimension drawings in the E-Catalog.