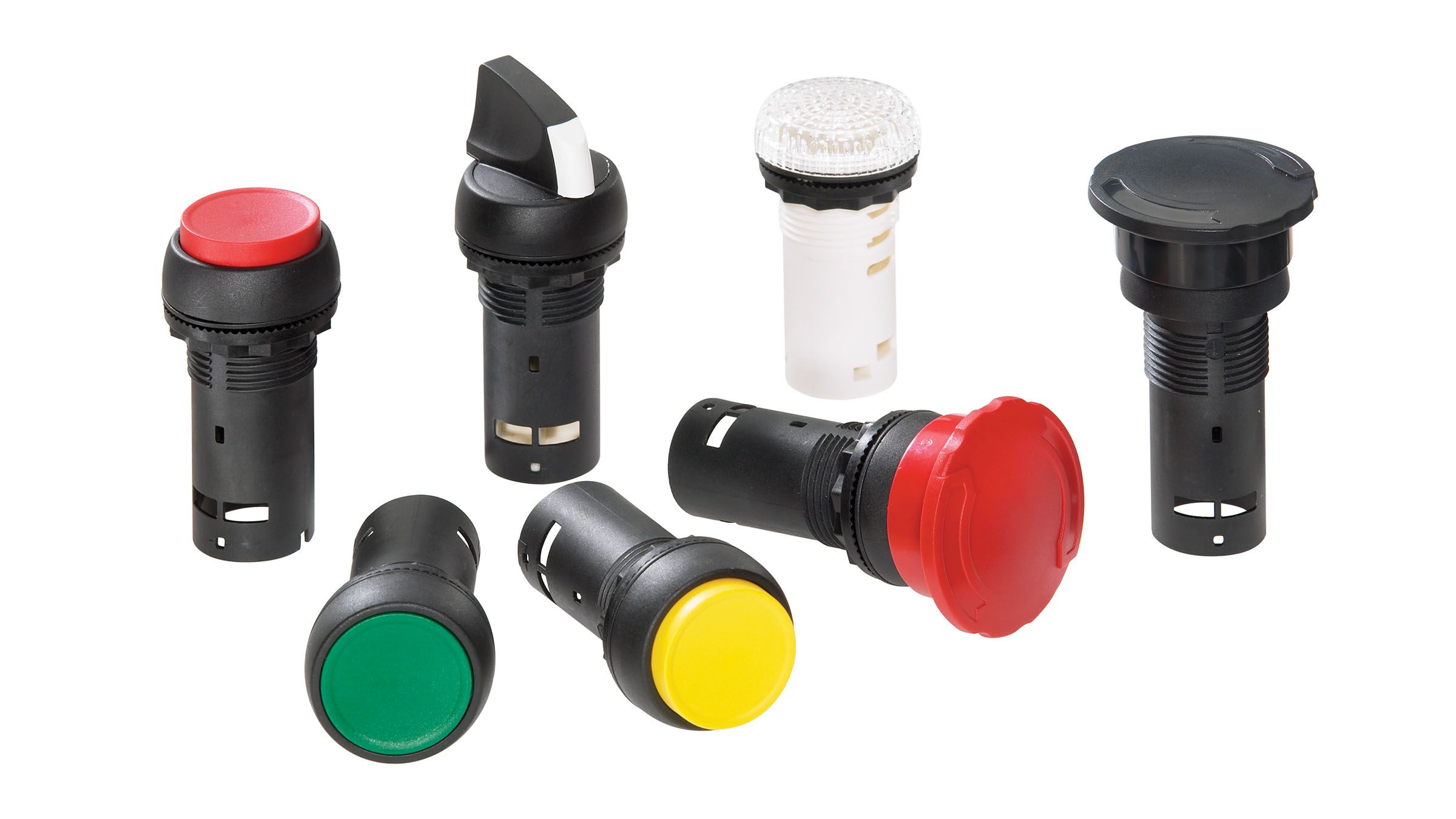 An economical choice for many industrial uses, these operators include push buttons, e-stops, switches, and pilot lights with either light indicators or incandescent illumination options.
Popular Resources / Quicklinks

The D7D Monolithic series is an economical range of 22.5 mm control and signaling pilot devices. Combining most of the features of the standard D7 series, the monolithic series is a range of complete push buttons, pilot lights, selector switches and emergency stop devices that have been assembled in the most used specifications. Constructed from high quality industrial grade thermoplastic, the monolithic series features a unique one piece body that incorporates both front and rear of panel components into one element that can be ordered from one convenient single catalog number. With the security of environmental sealing and one piece rear fixing the D7D Monolithic range is the ideal choice for applications where easy and efficient ordering and installation is a priority
One part number ordering
Complete one piece panel mounting
Lenses, press plates and handles pre-fitted
Single rear fixing nut
Tamper-proof press plates and rotary handles
IP 20 finger protection on terminals
Positive detent on selector switch to prevent hang up between positions
Optically enhanced lenses on pilot lights
Integrated LED lamp technology
UL Type 4/4X/13, IP66 Sealing
Chemical resistant industrial grade thermoplastic body
Corrosion and UV resistant
Modern low profile appearance
Ergonomic press plates and handles
Concave press plates on pushbuttons
Looking for more?
Find selection guidance, technical information, wiring diagrams, and dimension drawings in the E-Catalog.
| Resource | Resource Type | Publication Number |
| --- | --- | --- |
| D7D Monolithic Pilot Devices Overview | Flyer | F-D7DMONOLITHIC |
| IEC vs NEMA type Push Buttons | White Paper | TECH-IECvsNEMA |