The Big Motor And A Little Motor Rule
Sprecher + Schuh Houston is a UL508A Industrial Control Panel shop, and a UL Inspector often comes in to see what we are building, so we get to ask questions about the 'right way' to build panels that conform to codes.
We have previously asked about a little known application rule called BIG motor and LITTLE motor short-circuit protection. The rule simply is that if you choose a short circuit device for the big motor based on NEC 430-52.C.1 then you may add a little motor to the load side of that device IF adding that additional device does not cause you to change the original selection for the big motor. This is opposed to providing a feeder device to protect the short circuit device for the big motor as well as the little motor (three short circuit device and two of them are no doubt the same size and cost).
Let us take an example of a 250 HP (302 FLA) and a 5 HP (7.6FLA) at 480V. Now if we were to choose a molded case circuit breaker as the BCPD for the 250 HP , it could be as large as 250% of the FLA or 755amps but the common choice would be at 150% or 450amps (600 amp frame circuit breaker). Now to protect the 5 HP, we could use a KTA7-25S-10A or a 30 amp fuse block and a set of fuses as shown in Figure 1 below.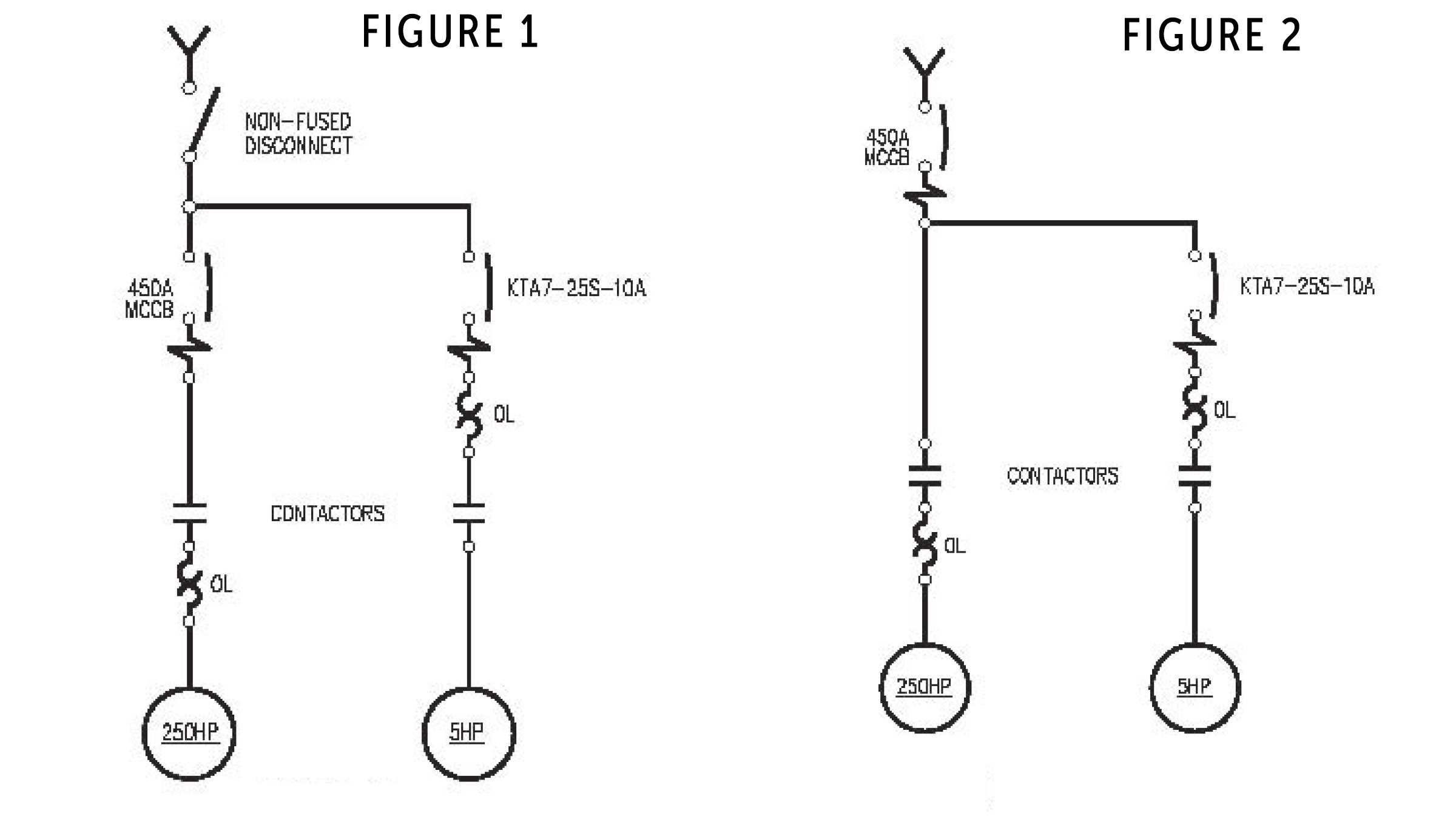 The classic design would use a non-fused switch or non-automatic circuit breaker to feed the 450 amp thermal magnetic circuit breaker and the KTA7-25S-10A used in a Type E/F application or the 30 amp fuse block and fuses. This represents three short circuit devices and two are large amp frame devices which are expensive and the panel space required is considerable. Now the BIG motor and LITTLE motor rule says there is no need for a large frame precise device to feed another device that is the same size. So, only one 600 amp frame with 450 amp trip MCCB and connect the KTA7-25S-10A on the load side of the MCCB. The MCCB becomes the main disconnect as well. This design complies with UL (see Figure 2 above).
For additional information please contact your nearest authorized distributor, sales representative, or call our customer service or technical support lines.